Organizing the World of Social Networking
Last week I attended at the Toronto office of WeirFoulds to speak at LMANext, along with legal recruiter Mike Lymer from IQ PARTNERS Inc. LMANext is a program created by the Legal Marketing Association's Toronto Chapter to help the next generation of marketing and business development professionals with opportunities for continuing education, networking and collaboration. If you're a legal marketer with less than 10 years of experience, you may be interested in learning more about LMANext.

My presentation, titled "Organizing the World of Social Networking", was focused on how legal marketers can encourage their lawyers to use social media. Below is a glimpse of what was covered.
Despite the multitude of social networking platforms, one key takeaway was that lawyers do not need to be using many of the platforms. That should help those lawyers who feel like they have no time to use social media. Instead, lawyers should generally focus on one or two platforms if they are adding social media channels to their marketing efforts. I suggested LinkedIn as a platform for lawyers to start off on because it's viewed as a more professional network and is easy to use. Lawyers should also consider the platforms that their target audiences are using.
Before I provided the audience with some ideas on how to help social media leery lawyers open up to social media use, we thought about why some lawyers aren't using social media. The audience expressed many of the typical responses, such as lawyers feeling like they don't have the time, social media not viewed as a professional platform to promote themselves, and lawyers feeling like they do not have enough control over their posts. Part of my response was that there are many lawyers, law firms, and legal organizations using social media to distribute information and/or engage with others (e.g., the Supreme Court of Canada, bar associations); for lawyers who don't want to use social media, that will make their competitors who are actively using it happy.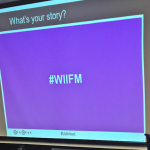 For marketers to encourage lawyers to use social media, and for lawyers to build their profile and following, they have to remember "WIIFM", which stands for "what's in it for me?". So legal marketers need to put themselves in the shoes of a lawyer and remember what the challenges of lawyers are (e.g., time) and their goals (e.g., client acquisition and personal brand awareness). When they educate lawyers on how to use social media, they need to get lawyers to think about "what's in it for me?" from a target audience point of view so lawyers can provide relevant, valuable content to develop a following and a go-to-person reputation.
One of the highlights of the event for me was hearing the lively discussions when I asked the audience to brainstorm on how we could encourage lawyers to use social media. Resulting from the brainstorm, we discussed how social media education as part of a firm's onboarding process would be useful. Also, encouragement and engagement by those in a senior role in using social media will send a message that social media use is acceptable.
As much as I like giving presentations to lawyers on how to use LinkedIn purposefully, I always enjoy listening to other LinkedIn experts speak. For Mike's presentation, he walked through parts of his LinkedIn profile, pointing out areas where legal marketers and lawyers can optimize. One of his key takeaways was to ensure the Summary section is completed. This may include a description of recently completed projects or current projects. He also encouraged everyone to tell their story and join groups to help expand their networks.

Overall, this event was very well organized and timely (recall the Legal Marketing Association and Bloomberg Law research study which was publicized last month).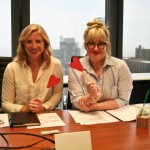 Thank you to the Legal Marketing Association for inviting me to speak and to WeirFoulds for hosting the event at their office. Also, a big thank you to both of the LMANext Program Managers: among other things, thank you, Lindsey Bombardier for creating all those hearts for the audience to show their "like", and Amy Dumoulin for taking this blog post's cover photo. Moreover, thank you to all who attended to make this a more interactive, learning event.
If you or your firm needs help with making sense of social media, encouraging lawyers to use it purposefully, or providing relevant social media training, please do not hesitate to contact me. I get energized when speaking about social media, and hopefully that enthusiasm will rub off on you or your lawyers. Also, for some lawyers to develop a marketing habit, they may need someone to whom they feel accountable — I can certainly be that marketing buddy.