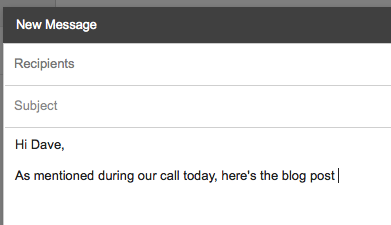 5 Blogging Do's for Law Bloggers
Whether you're starting to blog or have been doing so for a while, make sure you do these five things. They will make a difference in terms of whether your blogging efforts will be short-lived or successful in the long-run.
1.  Have a Marathon Mindset
You may have received advice to treat practising law as a marathon and not as a sprint. Similarly with blogging, an appropriately paced blogging schedule will help with managing your law practice and keeping you top of mind with potential clients.
For example, don't burn the midnight oil over several days to squeeze in drafting a number of posts because you're excited to blog or need to cross it off your to-do list. If you do, you'll likely be exhausted and may dislike blogging. So avoid posting every day, other day or even once a week unless you are confident you can continue posting relevant and valuable content at such a pace.
Instead, think about your goals and long-term strategy. Also, consider your time commitments and when you reasonably would have time to draft blog posts.
Given the cost of legal services, readers are likely looking for information up front instead of immediately retaining you. Potential clients lurk until they have a need for your legal services. So new client acquisition within the first few weeks should not be your primary goal. You'll likely not achieve that goal and, in turn, will quickly abandon your blogging efforts.
2.  Know Your Audience
As mentioned in my post "Are You Planning to Start a Law Blog?", you need to know who your audience is. After all, you're writing the post for them.
For example, knowing your audience's pain points will help you develop relevant content and keep your post focused. Put yourself in their shoes and think of the keywords they may use when searching for information they care about. Then incorporate them appropriately into your post.
If your target audience has no legal training, avoid legal jargon unless you will explain it in plain English. Legalese is a poor way of conveying your expertise as a lawyer.
3.  Review Before You Post
It's important to put your draft blog post aside and edit it later. Otherwise you may regret what you say, have a post that is poorly written and/or be seen as a blogger who provides low-quality content. If the post is time sensitive, make an effort to have someone quickly read it before you post it.
Some questions to ask when reviewing your draft post include:
Is this post relevant to your target audience?


Is there something in your post that your target audience would find of value, which may help bolster your subject matter expertise and distinguish you from other bloggers?

Is/are your point(s) clearly stated?

Are you saying something that may be offside of rules of professional conduct?

Are the content and tone aligned with your personal brand?

Can you tighten up any of the text to make it quicker and easier to read online?

Are there any typos or grammatical errors?
4.  Post Consistently
To stay top of mind, you need to post consistently. Developing an, and being accountable to someone for following your, editorial calendar will help you post regularly.
In creating content, think of different types of content. For example, have a mixture of:
longer content pieces to allow you to show more of your legal expertise (which typically takes some time to write); and

shorter content pieces like updates and reminders to show you care about keeping your target audience on top of the law and industry news (which shouldn't take too much time to write).



If you're unable to create content on a regular basis or know of particular times you won't be able to blog, consider hiring a freelance lawyer to draft your blog posts so you don't lose the momentum. For example, seasoned lawyer Erin Cowling offers legal content marketing services. Depending on your preference, she can ghostwrite, author or co-author blog posts. In my post "How Lawyers and Clients Can Help with Blogging", she explains how co-writing works and the benefits of having another lawyer write or ghostwrite.
5.  Promote Your Posts
To increase readership, you need to let others know about your published post. Provide a link to it on your or your firm's website.
Also, share the link on social media, such as on LinkedIn, Twitter and Facebook. Add relevant hashtags to help increase the visibility of the social media post. Moreover, you may want to pin your social media post so it always appears first in your profile or timeline. For example, to pin a tweet on Twitter:
Click on the three dots that appear at the bottom of the tweet you want to pin.

Select "Pin to your profile page".

If you already have a pinned tweet, you will receive a message stating: "This will replace any previously pinned Tweet. Are you sure?". Click on "Pin" to replace the existing pinned tweet with the desired tweet.
Let those on your email list know about your published blog posts, such as part of an e-newsletter.
Don't forget to mention your blog post offline. For example, if during a client call you're discussing a topic you have blogged about and the post would be of interest and value to your client, mention it during your call and offer to email a link to it.
BONUS: There is a sixth blogging "do" I want to share. It's to have fun with blogging! Hopefully you practise in an area of law you enjoy. Think outside the box in how you can make your blog posts resonate with your audience. Happy blogging!